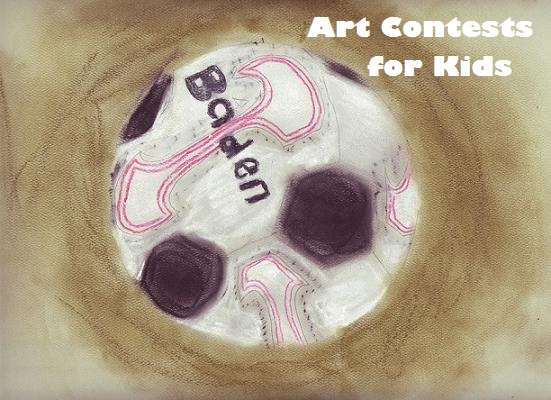 There are lots of online art contests for kids, and as I come across them I'll post them here. To find out more about a contest, click on the contest name below.
Art contests offer children some great life lessons:
Every contest has guidelines and a deadline, which gives a child a specific goal to work toward.
The process of creating the artwork itself builds self-confidence, as the child goes from an "I can't draw" mindset to one of "I can enter this contest — and I might win!"
The art children enter should be their best work (it doesn't matter the skill level), teaching them that no matter what they do, they should do it well.
If they win, there's the fun of the reward and learning to be a gracious winner.
If they don't win, there's the practice of dealing with disappointment and being a good sport.
Win or lose, when your child creates a piece of art and enters it in a contest, she has tried, which is the first step to success.
 Contests with Deadlines
DEADLINE: Varies by Country (check website)
AGES: 15 and under
DEADLINE: July 15, 2017
Ages: 4-18
DEADLINE: July 31, 2017
Ages: 4-14
DEADLINE: July 31, 2017
Ages: 6-16
DEADLINE: August 24, 2017
Ages: Grades K-12
DEADLINE: September 30, 2017
Ages: 4 – 17
DEADLINE: October 2, 2017
Ages: Grades K-12
Coming Soon!
Doodle4Google (US)
Doodle4Google (India)
NRA Youth Wildlife Art Contest (US)
Sunflower Art Contest (International)
Frogs are Green Art Contest (International)
In My Homeland Art Competition (International)
Online Gallery
This isn't a contest, but a place to exhibit artwork:
DEADLINE: Ongoing
Ages: All Children
Ongoing Contests
DEADLINE: Last day of each month
AGES: 17 and under
Deadline: Voting ends the last day of each month
Ages: 12 and under
DEADLINE: Last day of each month
Ages: 12 and under
DEADLINE: Last day of each month
AGES: Any
Deadline: Last day of each month
Ages: 18 and under
DEADLINE: Weekly
Ages: All ages
DEADLINE: Monthly
Ages: 13 and under